NORWEGIAN TRACKER in the Oslo Labyrinth
Travel novel for young people
By Arne Hart
How to ski solo through the notorious Rauer Pass where blizzards are raging. How to live with junkies in a lodging house in Oslo where overdoses are raging. Norwegian junior top skier Stig Dahl does it both.
After leaving the boarding school and the ski team, Stig Dahl skies through the infamous Rauer Pass at night. In the early morning, he sneaks onto a ferry across the fjord and jumps on a freight train to Oslo.
Near the railway station, Stig meets his old ski friend Tore, who has sunken from top sports into the world of heroin. He accompanies Tore to the Ibsen Inn, a labyrinth of petty crime, lots of heavy dope and unrealistic hopes. After some days with experiences beyond all expectations, Stig, as a non-junkie, knows he better leave the Ibsen Inn.
Seija, an elegant young woman who studies history at the University of Oslo and has a well-paid weekend job in London, invites Stig home. He soon gets an intense relationship with Seija, who is very tender towards him, but he also gets involved in the secret parts of her life. When time is running out for Tore, urgently needing medical treatment abroad, they embark on a challenging action to finance it.
Key Words:
Traveling, Adventure, Death, Sorrow, Boarding school, Runaway, Concerned teacher, Commando, Solidarity, Wild Norwegian nature, Reindeer tracks, Blizzard, Survivor, Oslo, Junkies, Prostitution, Heroin, Failing drug policy, Medical punishment, Rape and revenge, Caring girlfriend, Age difference, Friendship, Love, Soft sex, University, Secret life, Climbing, Women's liberation, Burglary, Beach house in Denmark.
ISBN 978-82-690598-0-9
ARNE HART is born in the Netherlands and lives in Norway.
I have worked as a physiotherapist for top athletic teams from the Netherlands, Australia and Norway, and have traveled the world with a backpack and tent, driving and living in old cars in Australia and the USA. In that way, you meet interesting and bizarre people, enough to write about, and I have sold articles and photos to magazines internationally.
At the end of the nineties, I started a soccer team for junkies in Oslo as a player-coach. I visited and supported them on the streets, under bridges and in the lodging houses and shacks where they lived.The appalling, tragic but also often hilarious experiences resulted in the books:
NORWEGIAN TRACKER in the Oslo Labyrinth
(2017, novel, English)
HOSPITS CENTRAL
(2002, thematic short stories, Norwegian)
.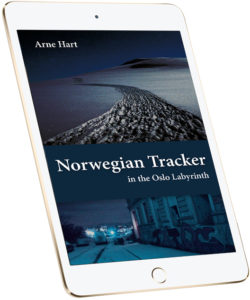 Arne Hart
Norwegian Tracker
in the Oslo Labyrinth
New information about the books:
Thank you very much for your interest.
Both paperback editions of Norwegian Tracker and Hospits Central are sold out at the moment. I am using the opportunity to revise both books, but the work is delayed as it takes more time than I thought and also due to traveling.
As soon as I know more, I'll post it here.
Cheers, Arne Hart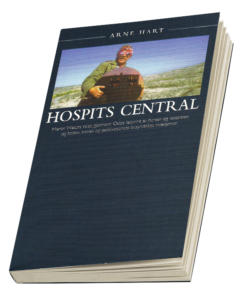 Book reviews for Arne Hart's book
HOSPITS CENTRAL
(THE CENTRAL INN) (Published in Norwegian, 2001)

With this book, Arne Hart punctures the abscess called the health care and social services system.
It is an exceptionally good book, both from the point of view of the drug addict and as seen by the man in the street.
From the preface: This is a book about people who endure anything. Almost anything… A gallery of fates. Despair, destitution, pride and dignity. Quotes carved in stone...It has become a beautiful book about beautiful people.
From the epilogue: …This book tells of lives so far removed from the reality we believed our welfare state to have established for society's outcasts that it is a disquieting read. It is therefore highly recommended.
…With engagement, the author describes a cast of characters where the common denominator is addiction to alcohol or drugs. Their struggle to survive, exasperation with the difficult life and what is felt as coercion and betrayal by authorities…
This book is easy to read, largely kept in the form of dialogue between the many colorful characters we meet. This is about life in Oslo's inns seen through one of them called Hospits Central...The book is marked by a mixture of genres, which functions remarkably well. The many short stories making up the book no doubt have a political impact: There is a struggle going on in how to describe our society: What does Norway look like? How do Norwegians live? Are we the richest country in the world, and, if so, what does that entail?
There is a lot to learn from Hospits Central, both for those who imagine that everything is well in the Norwegian welfare state and for those who simply wish to know about the real life at an inn.
It is easy to become fond of many of the characters Hart describes, even though he does not romanticize them. The book presents a substantial critique of Norway's drug policies, which, according to Hart, involve too much bureaucracy in their methadone project. And there is no denying that, after having read this book, it is easy to agree with him.
If Arne Hart's book does not provoke anger against the health authorities, if it is not an eye opener for politicians, if it does not create an understanding of the outcast and if it does not give us faith in the goodness of people, then we certainly have not read this book with our hearts.